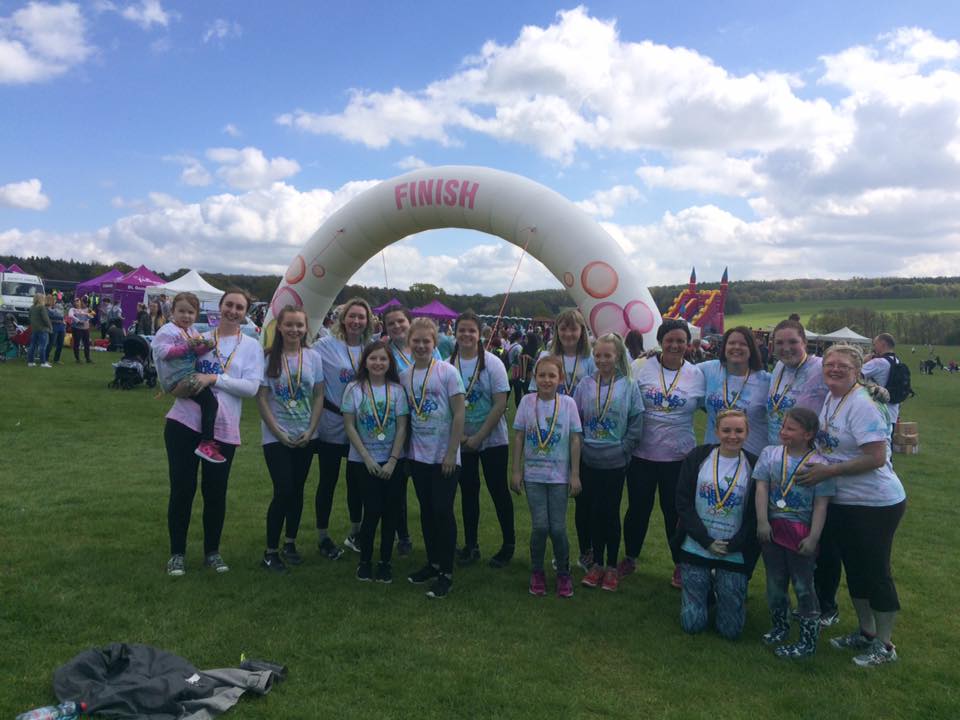 ETS Bubble Rush Team 2017 – Just Giving-please give generously
The ETS team from head office were joined by friends and family on Saturday 22 April 2017 at Harewood House raising money in aid of St Gemma's Hospice in Leeds.  The day was tremendous fun as you can see by the smiles and faces on the picture of the ETS bubble rush team 2017.  The event was attended by thousands of other fellow bubblers from across the region and country, and the weather was dry and warm. By the end of the event…..our bubble rush team were anything but dry!!!
Foam and froth and lots of green paint all added to the sheer enjoyment of the day for the team and their family. Some of the team are reporting still finding green paint on their skin and nails despite numerous showers to try and remove it.!!! It certainly was a day to remember and it's hard to say who enjoyed it most -the children and young adults on the ETS Bubble Team or the parents and aunties and uncles on the team!   The ETS Bubble Rush team were determined to pull all stops out for the event and challenged themselves by running most of the way around. There are a few sore limbs in the office toady and some tired but happy smiles on the faces of our Bubble Rush Occupational Therapists.
The team made a team picnic and enjoyed this, as they sat around with their family and friends whilst admiring the beautiful grounds of Harewood House. The excitement and nerves built up amongst the team and they could hardly wait for starters orders before running off to complete the first ETS Bubble Run.
Last year, the event raised £98, 317.44 This year we are all hoping to beat that target, and we at ETS are doing everything we can to achieve that goal. If you would to sponsor the team the link is; https://uk.virginmoneygiving.com/ETSbubblers.  We'd love you to share this link with friends and colleagues so that we can do everything we can to help St Gemma's beat last year's target and raise vital funds.  Please give as much or as little as you can and please share our post freely – it's all for a good cause!